Statement :
Nato Relations
According to their website, NATO states its purpose as:
"Security in our daily lives is key to our well-being. NATO's purpose is to guarantee the freedom and security of its members through political and military means."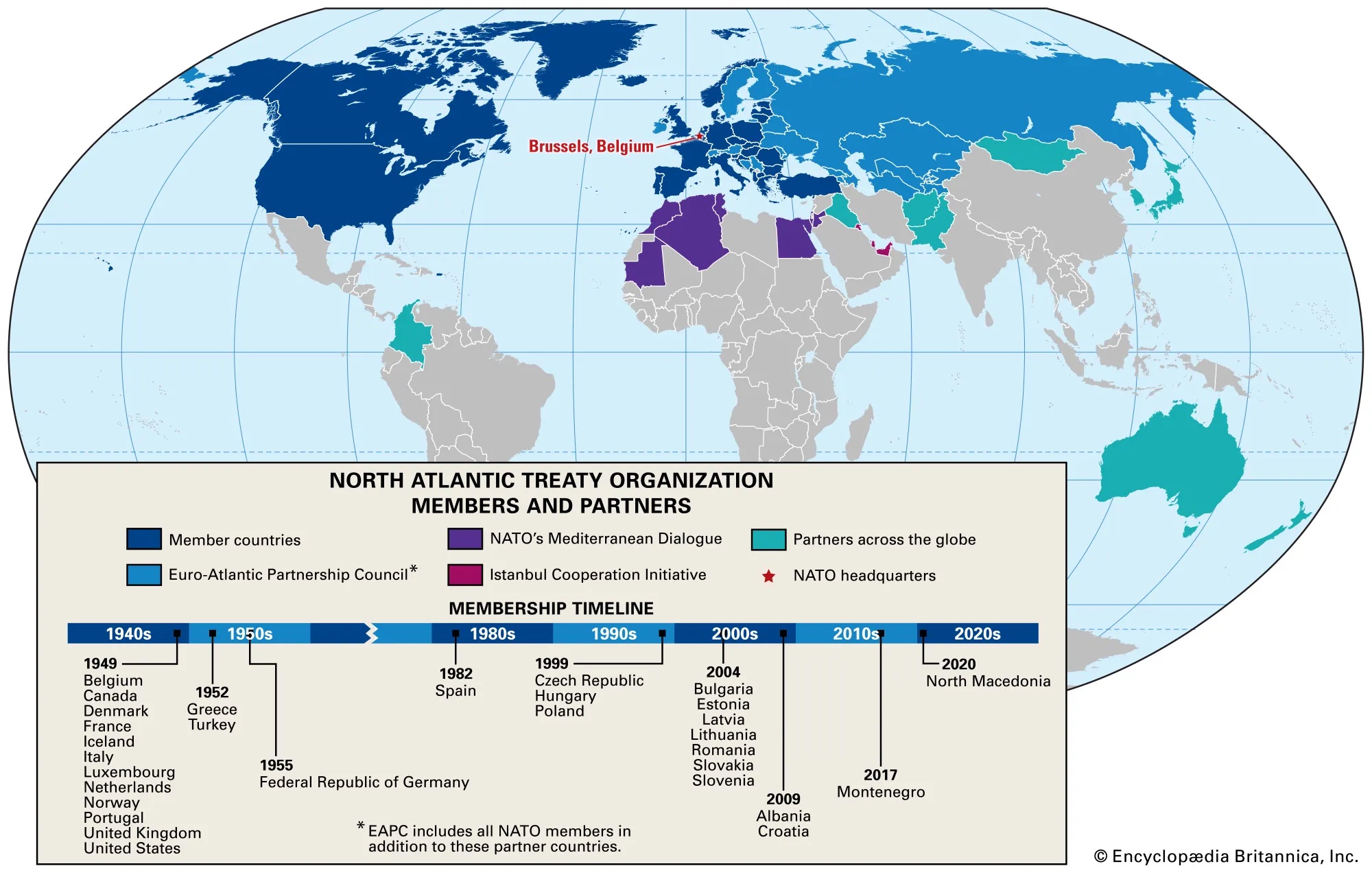 POLITICAL - NATO promotes democratic values and enables members to consult and cooperate on defence and security-related issues to solve problems, build trust and, in the long run, prevent conflict.
MILITARY - NATO is committed to the peaceful resolution of disputes. If diplomatic efforts fail, it has the military power to undertake crisis-management operations. These are carried out under the collective defence clause of NATO's founding treaty - Article 5 of the Washington Treaty or under a United Nations mandate, alone or in cooperation with other countries and international organizations.
These are the member countries as of July 2022.
ALBANIA (2009) BELGIUM (1949) BULGARIA (2004) CANADA (1949) CROATIA (2009) CZECH REPUBLIC (1999) DENMARK (1949) ESTONIA (2004) FRANCE (1949) GERMANY (1955) GREECE (1952) HUNGARY (1999) ICELAND (1949) ITALY (1949) LATVIA (2004) LITHUANIA (2004) LUXEMBOURG (1949) MONTENEGRO (2017) NETHERLANDS (1949) NORTH MACEDONIA (2020) NORWAY (1949) POLAND (1999) PORTUGAL (1949) ROMANIA (2004) SLOVAKIA (2004) SLOVENIA (2004) SPAIN (1982) TÜRKIYE (1952) THE UNITED KINGDOM (1949) THE UNITED STATES (1949)
Finland and Sweden have applied for NATO membership against strong opposition and threats from Russia. NATO states that membership is open to "any other European state in a position to further the principles of this Treaty and to contribute to the security of the North Atlantic area."
Other NATO programs work with non-member states. Theses program contain six areas of cooperation, which aims to build relationships with partners through military-to-military cooperation on training, exercises, disaster planning and response, science and environmental issues, professionalization, policy planning, and relations with civilian government.
Every candidate and every political party who fields candidates for public office should both have and publish their position on this camp topic (NATO Relations) as a condition for public support, so people know how the candidate proposes to represent them, and they (the people) can hold him (shorthand for all genders) accountable for how their actual representation and votes compare to what their campaign position on this topic was.
Click here
to weigh in.